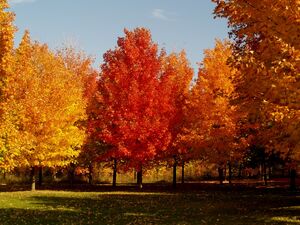 Maple tree (simply known as, maple) is a genus of trees or shrubs. Maples are variously classified in a family of their own, the Aceraceae, or together with the Hippocastanaceae included in the family Sapindaceae. Modern classifications, including the Angiosperm Phylogeny Group system, favour inclusion in Sapindaceae. The type species of the genus is Acer pseudoplatanus (sycamore maple).
There are approximately 128 species, most of which are native to Asia, with a number also appearing in Europe, northern Africa, and North America. Only one species, the poorly studied Acer laurinum, is native to the Southern Hemisphere. Fifty-four species of maples meet the International Union for Conservation of Nature criteria for being under threat of extinction in their native habitat.
Community content is available under
CC-BY-SA
unless otherwise noted.