Fordjay (with a silent "D") is the name of the kingdom located atop of the fjord. It is the west Scandinavian-inspired new home to the new monarchs, King Allen and Queen Sprite Elsa.
The Fordjay Castle is the home of the new royal family of Frodjay.
The Fordjay Chapel is a chapel located in the castle in which Allen and Sprite Elsa's coronation ceremony took place.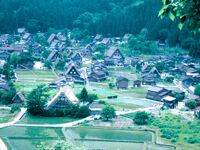 The Village outside of the new castle gates and walls, filled with various houses, shops, marketplaces, grass fields with water-pools, the docks, and a church with a clock tower. It is also where the new citizens of Fordjay reside.
Community content is available under
CC-BY-SA
unless otherwise noted.