Fordjay (with a silent "D") is the name of the kingdom located atop of the fjord. It is the west Scandinavian-inspired new home to the new monarchs, King Allen and Queen Sprite Elsa.
Fordjay Castle
[
]
The Fordjay Castle is the home of the new royal family of Frodjay.
Fordjay Chapel
[
]
The Fordjay Chapel is a chapel located in the castle in which Allen and Sprite Elsa's coronation ceremony took place.
The Village
[
]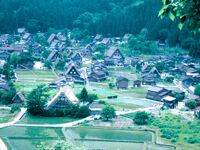 The Village outside of the new castle gates and walls, filled with various houses, shops, marketplaces, grass fields with water-pools, the docks, and a church with a clock tower. It is also where the new citizens of Fordjay reside.