Flowers are the prettiest plants in the world.

Here's the three examples of flower species.
Violet
[
]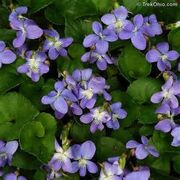 Violet or Viola is a genus of flowering plants in the violet family Violaceae. It is the largest genus in the family, containing between 525 and 600 species. Most species are found in the temperate Northern Hemisphere, however some are also found in widely divergent areas such as Hawaii, Australasia, and the Andes.
Some Viola species are perennial plants, some are annual plants, and a few are small shrubs. A large number of species, varieties and cultivars are grown in gardens for their ornamental flowers. In horticulture the term "pansy" is normally used for those multi-coloured, large-flowered cultivars which are raised annually or biennially from seed and used extensively in bedding. The terms "viola" and "violet" are normally reserved for small-flowered annuals or perennials, including the species.
Tulip
[
]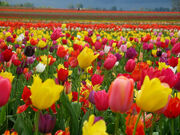 The tulip is a perennial, bulbous plant with showy flowers in the genus Tulipa, of which around 75 wild species are currently accepted and which belongs to the family Liliaceae. The genus's native range extends west to the Iberian Peninsula, through North Africa to Greece, the Balkans, Turkey, throughout the Levant (Syria, Israel, Lebanon, Jordan) and Iran, North to Ukraine, southern Siberia and Mongolia, and east to the Northwest of China. The tulip's centre of diversity is in the Pamir, Hindu Kush, and Tien Shan mountains. It is a typical element of steppe and winter-rain Mediterranean vegetation. A number of species and many hybrid cultivars are grown in gardens, as potted plants, or as cut flowers.
Rose
[
]
A rose is a woody perennial of the genus Rosa, within the family Rosaceae. There are over 100 species and thousands of cultivars. They form a group of plants that can be erect shrubs, climbing or trailing with stems that are often armed with sharp prickles. Flowers vary in size and shape and are usually large and showy, in colours ranging from white through yellows and reds. Most species are native to Asia, with smaller numbers native to Europe, North America, and northwest Africa. Species, cultivars and hybrids are all widely grown for their beauty and often are fragrant. Rose plants range in size from compact, miniature roses, to climbers that can reach seven meters in height. Different species hybridize easily, and this has been used in the development of the wide range of garden roses.
The name rose comes from French, itself from Latin rosa, which was perhaps borrowed from Oscan, from Greek ρόδον rhódon (Aeolic βρόδον wródon), itself borrowed from Old Persian wrd- (wurdi), related to Avestan varəδa, Sogdian ward, Parthian wâr.